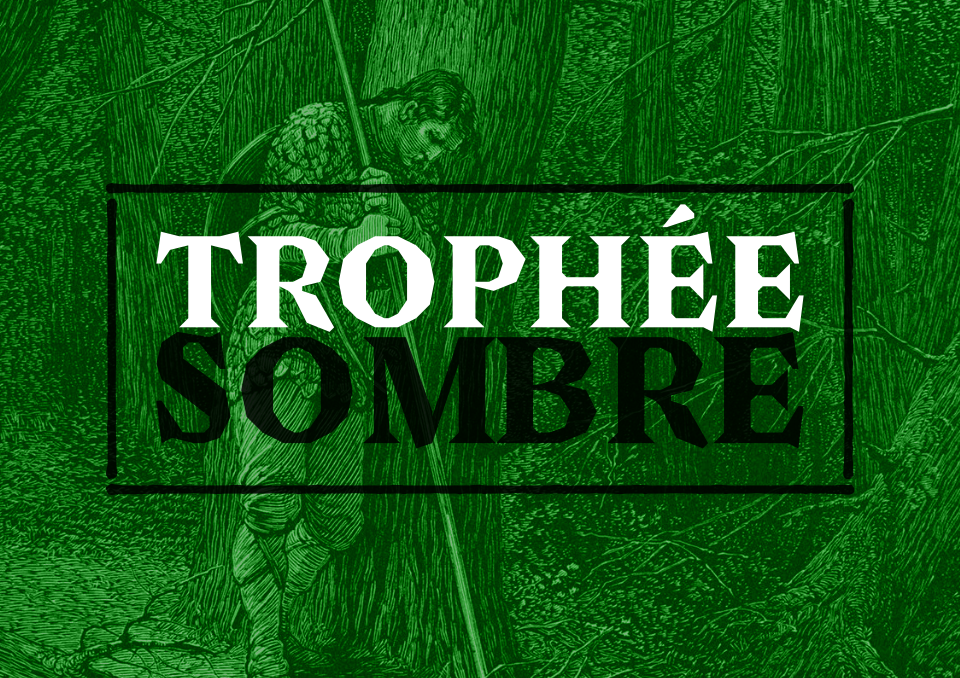 Trophée Sombre
Trophée Sombre est un jeu de rôles à narration partagée à propos d'un groupe de chasseurs de trésors et de leur funeste expédition dans une forêt hostile qui ne veut pas de leur présence.
Le jeu nécessite une meneuse de jeu (MJ) pour modérer la partie et dépeindre les dangers du monde, et une ou plusieurs joueuses pour incarner les chasseurs de trésors. Une partie de Trophée Sombre dure environ 3 à 4 heures.
Le jeu narre la descente aux enfers de chasseurs de trésors qui s'enfoncent de plus en plus profondément dans une forêt dangereuse. Leur voyage les mènera finalement à d'anciennes ruines abritant le trésor qu'ils recherchent, et aux monstrueuses entités qui y demeurent. Ce n'est toutefois pas une histoire pleine d'espoir, pleine d'aventuriers courageux et audacieux qui tuent des dragons puis rapportent des sacs d'or en ville. C'est une histoire d'horreur, celle de pilleurs condamnés à une fin tragique. Il est très probable que tous les chasseurs de trésors mourront ou – au mieux – seront marqués et hantés à jamais par leur expédition.
Trophée Sombre est une adaptation française de Trophy Dark.
La traduction est de Matthieu Braboszcz (matthieu@matheline.fr • cestpasdujdr.fr) avec l'aide d'Angela Quidam, Guy Blavin et Nicolas Folliot.
L'édition, le graphisme et la mise en page sont de Nicolas Folliot • nicolas@lesfaire-valoir.com • lesfaire-valoir.com • @nicolasfolliot


Édition, jeu et communication
La fonte Avara est de Raphaël Bastide et d'autres typographes talentueux de la Velvetyne Type Foundry.
Ceci est la version 1.0, publiée sous licence Creative Commons Attribution – Partage dans les mêmes conditions 4.0 International (CC BY-SA 4.0).

This work is based on Trophy, product of Jesse Ross and Hedgemaze Press, and licensed for our use under the Creative Commons Attribution 4.0 License. Trophy is adapted from Cthulhu Dark with permission of Graham Walmsley. Trophy is also based on Blades in the Dark, product of One Seven Design, developed and authored by John Harper, and licensed for our use under the Creative Commons Attribution 3.0 Unported license.
Trophy™ is a trademark of Hedgemaze Press. The Rooted in Trophy Logo is © Hedgemaze Press, and is used with permission.
Download
Click download now to get access to the following files:
TropheeSombre_1.5.pdf
7 MB
TropheeSombre_Fiches.pdf
1 MB